As I mentioned earlier, I had the opportunity to go behind the scenes at Mohawk Racetrack last Thursday. Here's a little rundown of how it all went down.
We started the evening at the Terrace Dining Room, which, after passing by last time, I was excited to check out.
After ordering a round of drinks and some apps, we watched the races begin and decided to try our hand at placing a bet on the horse with the name we liked best (great strategy, I know). Unfortunately, Deep Impact didn't win, but our luck (and strategy) improved as the night went on.
For dinner we ordered the salmon tortellini and a pepperoni pizza, and despite being stuffed we had to follow it up with dessert because the brownie martini looked amazing (and the apple crumble was even better). The food was delicious – we were so full we could barely move once it was time to take the tour.
The dining room patio provides a perfect view of the track along with quick access to the betting machine, and the servers were all friendly and very attentive. If you head to Mohawk, I highly recommend staking your spot up there. But be warned – if you choose to sit on the patio, the mosquitoes get bad once the sun starts to set – my feet were covered in bites, so dress appropriately or bring bug spray.
After the meal and a little success betting on a couple horses with good odds, Mark, the communications coordinator at Mohawk, took us over to the Paddock to get a behind the scenes look at how it all goes down at the racetrack.
The horses arrive from all over Ontario in their trailers, then they're moved inside and grouped together based on the race they're running in.
At the back of the paddock there's a special area where they test the urine of the horse that wins each race, along with a random horse from each race, to ensure they haven't been given any performance enhancing drugs.
Each horse has their own caretaker who carefully bathes them and takes care of them before and after the race. These guys are the true unsung heroes of the sport, who unlike the drivers and coaches, get no glory and have to deal with literal horse shit – but have deep love for the animals.
At Mohawk, the horses are all Standardbred – which I learned means they are more durable horses than Thoroughbreds (who can only run once a month because of their daintier bone structure). Standardbreds are able to run once a week without causing too much stress to their bones.
By far the most exciting part of the evening was that, after the tour, we were able to get on the track in the car that drives in front of the horses to get them together in line as the race starts. Hearing their hooves clop along the pavement and being right beside them as they ran was an incredible once in a lifetime experience that I will never forget. The power of the horses on the track is especially impactful when you get to be there right in the action of the race.
FYI Just a reminder that you still have time to make the quick trip to Mohawk this summer to take a selfie in front of the track and win $1000 gift certificate! Just post it to twitter and use the #OffToTheRaces hashtag and you're all set. Remember, admission to the races is always free, and they're open from 6pm to 11pm five days a week.
The world of horse racing isn't completely new to me – I did write an article for Trot Magazine about my experience at the races as a "first timer" back in 2013 after attending one night at the Woodbine track – but it is still certainly new enough that I don't feel as though I have any true understanding of how to bet like the pros.
This summer, I plan to change that.
Last weekend I was able to attend the Pepsi North American Cup at Mohawk Racetrack, and it was an eye opening experience about just how passionate the horse racing community really is.
Throughout the summer, I will be attending a couple more events, where I plan to fully immerse myself in the language of betting – and maybe win some coin to take home.
Since the NA Cup (as the locals call it) was my first time visiting Mohawk, the first thing I did was explore the building to get my bearings. It's a large venue, and lucky for us it was a beautiful day outside.
With seating available inside and out, along with reserved seating in the dining area – there's not a bad view in the place. While this was easily one of the busiest days of the year at the track, there was enough room to accommodate the large demand of the crowd. Since these events are not ticketed, anyone can show up and place a bet – so I was wondering if it would end up being 'oversold' so to speak – but that wasn't a problem. It was very busy, but not so packed you couldn't move or get a seat so long as you took some time to check various areas and find some open chairs.
The thing I enjoyed most about visiting Milton for the first time, was just how friendly everyone was – and how cheap the food and drinks were. I think, after 11 years in Toronto, I have come to expect to pay $8 a drink and deal with rude, unhappy people at events this large. It was refreshing to stand in line with people willing to chat with you, or to accidentally bump into people, who, instead of giving you an angry look – chipperly ask you where you got your delicious looking ($3.50!!) chili cheese fries.
Once I got past my pure joy at the affordable and deliciously fatty food and drink options, I had to get down to the track and watch those horses do their thing.
It is unlike anything you'll ever experience to watch a crowd this large cheer and sigh and cry out for their horse, all within the span of a minute. Some end up incredibly happy and full of cheers, while others are devastated that the horse they just bet a big chunk of their savings on lost. It's an adrenaline rush much like riding a roller coaster.
My visit this time was cut short due to prior NXNE obligations, so I'm looking forward to next time – when I will properly be able to bet and get invested in a horse.
There's also something cool in this for you this summer, should you be interested in winning some extra cash. We are a selfie obsessed culture – but have you ever taken a selfie at the races? Well, your challenge this summer is to take one right in front of the track, tweet it out using the hashtag #OffToTheRaces (and mention @MohawkRacing) and you could win $1000 – the most money you'll ever get for taking a selfie, probably.
This post was created in partnership with Mohawk Racetrack.
Don't you just love long weekends?
Easter just passed, and Victoria Day is coming up quickly. Then summer will give us Canada Day, the Civic Holiday and then Labour Day.
These extended weekends are the perfect time to travel back home (or elsewhere) for a quick visit – and that's usually what I do.
When it comes to going home for holidays and celebrations, the first thing people think of is stress.
Having travelled back home on so many weekends over the past 11 years, I've learned a few tricks on how to keep my stress levels from going through the roof.
Here are 6 of my most relied upon tips for getting through these weekend escapes with ease.
Pack light. 
For the longest time, I majorly overpacked every single time I went back home (or anywhere else). That fear of being away from your things is something we all struggle with, but in recent years I've learned as much as I can about living with less to combat work-from-home stress (clutter stresses me out like nothing else) – and it's especially helpful when it comes to travelling.
If you're going to be travelling via a train, bus, or plane – you really don't want to be hauling around a heavy bag. It'll become a drag real fast, and you'll get to the end of your trip just to realize you never even touched half of what you packed. Take the time to plan out your outfits in advance, and pack only what you know you will actually need and use.
Believe me, you might pack that Henry Miller novel with a serious intent to finish it, but the weekend will come and go so fast you won't end up touching it.
I only learned how to implement this idea once I started travelling on planes – checking bags is not only a mega time waster, but who actually trusts these guys not to lose your bag? I can always fit everything I need into a carry-on now, even if it's for a longer trip.
Do your research. 
If you're going somewhere new, winging it sounds really fun and exciting (and it certainly can be) but a weekend is only a short time to see a new city – so the more itinerary you have, the more you'll be able to actually do and see – and the less time you'll spend looking for a wi-fi connection and googling the city.
 Book everything far in advance. 
This tip gets ruled out for fun, spontaneous, last minute travel – obviously, but for holidays – you know when they're coming, and you know when you will be expected home at the dinner table.
That means you have plenty of time to book ahead.
If you're flying, give yourself a 45 days ahead rule so you know you'll get the best deal.
If you're taking the bus, Megabus has insanely cheap deals if you book far enough in advance (but they're not refundable, FYI).
If you're opting to rent a vehicle, get in there before all the nice Honda cars are taken and you're stuck with a junky gas guzzler.
I opted for the Honda Fit over Easter, and as I've come to expect, it was reliable, safe, pretty and gave amazing gas mileage. It's the perfect road trip car if you're not travelling with a big group (and it's the most affordable new car you buy from Honda, which is awesome, too.)
Remember, prices for everything get hiked up for long weekends/holidays, so the earlier you get in there, the less painful it will be on your wallet.
Also, once you have everything booked, you can count half the stress of such trips washed away. Just like that, all you'll have to worry about is making small talk with awkward relatives you only see on holidays… and if your mom will be in a good mood this time.
There's an app for that.
Yes, I'm as app obsessed as everyone else. If you really want to streamline travel plans and easily share them with your travelling companion, apps like PlanApple, TripIt and TouristEye will keep your itinerary in your hands (via your smartphone).
Don't travel too far. 
The key thing about weekend travel is you only have a weekend. Yes, it's a long weekend, but that only affords you an extra 24 hours before you have to be back at your desk making magic happen. Spending most of that free time on the road (or in the air) is just stupid. Save the trips outside the 3-hour drive or 1-hour plane ride for your next full week off.
Be a tourist in your town. 
Since most of my long weekends trips have been spent visiting my family 2 hours south of Toronto, the only way to keep it interesting is to try and do or see something I might have ignored growing up.
You know those people who grew up in Toronto and still have never been to the top of the CN Tower? Having grown up just outside Niagara Falls – I mostly avoided it knowing it as the tourist trap it can be. But in recent years I've had fun visiting the city and embracing my inner tourist. There's something absolutely amazing about walking down Clifton Hill and seeing the Falls start to emerge, riding the Skywheel at night, climbing down the Gorge with my family for the first time, or going for an aimless drive in the country backroads (because I certainly don't get to do these things in Toronto).
We always take home for granted, but sometimes it's the best place to explore.
Bonus: Leave early. 
There is nothing like the hell of being stuck in long weekend bumper to bumper traffic on the Gardiner. Or heading to the bus station trying to make a certain bus only to have to wait in line for an hour to get your ticket because of how packed it is, and missing it. Beat the rush if you can. Ask to leave work a few hours early, pack the night before, and get out before everyone else hits the road.
If most of the stress comes from dealing with family and getting everything booked, the rest comes from road rage. Avoiding it is the best policy.
While I didn't travel so far this year that I needed to board a plane, I still managed to get my wanderlust fix in by taking a bunch of road trips across Ontario.
There is really nothing I love more than a good road trip. My favourite people, my favourite music, some snacks and a good vehicle are all that is required for a memorable mini-vacation on a whim. Thanks to Honda, I was able to try a handful of different cars for weekend getaways throughout 2014, and I'd love to take you through the ones I found particularly great for road tripping.
HONDA ACCORD – BEST FOR WINE COUNTRY
As seen above with my man, the Accord is the perfect practical car. I had the chance to test it out in Niagara, and you can read more about that trip and how much I loved the car over on Dose.
ACURA MDX – BEST FOR MUSIC FESTIVAL CAMPING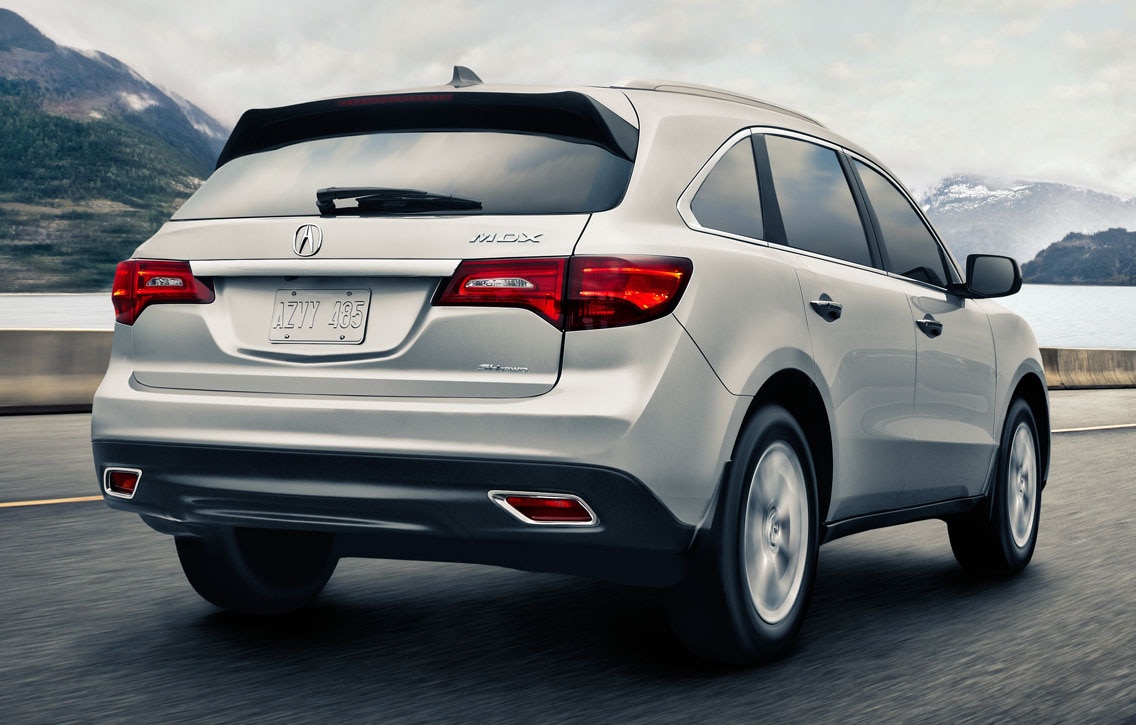 While I didn't use the Acura for a Bonnaroo trip, I couldn't help but think that it would be absolutely perfect for that situation when I was testing it out. Back when my friends and I drove down to Tennessee for the festival, we were in a small economy rental – and with all our stuff packed in – it  was not particularly comfortable. Not to mention that the heat in Tennessee in June is unbearable, so sitting in the vehicle for shade/sleep (since the tent was unbearably hot) was something we all needed to take turns doing.
The Acura is an incredible vehicle for a variety of reasons, but its spaciousness would definitely come in handy in such a situation. You can take the seats down for extra room should you need to sleep in it. Plus, the dvd player setup in the back will keep your friends entertained over the very long drive, and the navigation system will make sure you don't get lost trying to find the farm. And the surround sound audio and SiriusXM mean you'll be able to sing your heart out the whole drive down.
HONDA CIVIC – BEST FOR A BEACH TRIP

I was able to test out the Civic on my way to go parasailing for the first time in Grand Bend. This short trip might be the highlight of my travels in 2014 because not only had I never parasailed before, but I had never been to the adorable beach town that is Grand Bend before. Parasailing is unlike anything I've ever experienced. Ziplining in Victoria is probably the only thing I can compare it to. But somehow parasailing was scarier, even though it only lasted about five minutes. I probably shouldn't have googled parasailing accidents before I went – but knowing something has a risk is half the fun of doing it, right? It was truly one of the most spectacular views I've ever witnessed in my life. I wish Grand Bend was closer, as I would be there every weekend in the summer if I could.
The Civic might be my favourite car of them all. If I was going to buy a car today, I'd probably be going with a Honda Civic. It is beautifully made, gorgeous to look at, great on gas, and has all the incredible features I've come to expect from Honda – push start, rear camera, voice navigation, incredible audio, lane watch, and I don't even have to fish through my purse to find the keys – it detects them and unlocks automatically when I approach.
I love this car.
HONDA FIT – BEST FOR ADVENTURES
[tube]https://www.youtube.com/watch?v=qA67ljTbJJU[/tube]
I had a chance to try out the Fit while participating in my first drumming lesson. Yes, I finally fulfilled my childhood dream of learning to drum! Well, maybe not fulfilled, but I almost learned how to play Sweet Home Alabama well enough that I wasn't completely ruining the song. See me awkwardly taking my first few hits in the video above!
The Fit is cool for a a few reasons – one being it's price point is super reasonable for a new car. Another being that you can literally fit almost anything in it, despite it being a small car. As you saw, we were able to fit a bass drum in it – which I wasn't even expecting would actually work. You can use it as a 4 seat when you want to grab your friends for an impromptu trip to Montreal, or as a 2 seater when you want to pack your life in the car and see where the road takes you.
ACCORD HYBRID – BEST FOR EVERYDAY USE

The Accord Hybrid has everything I already loved about the Accord, but is also extremely efficient on gas – I spent a total of $30 over 4 days of heavy highway driving, compared to the $60 to $80+ I would usually spend on much less driving.
If everyone that drives would be able to switch to a Hybrid, the world would be a cleaner place, and people would suffer less rage from exorbitant gas prices. The only thing better than a Hybrid is the electric car – and I hear Honda is working on some models as we speak.
I can't wait.
—
On another note, Honda is doing something truly important this holiday season. Help them donate $20,000 to the Make-A-Wish Foundation by donating. For every dollar you contribute – they contribute another dollar. It's the time of year to give, and this is a great way to make your contribution go twice as far.
No, I'm not talking about the Cash Cab – this campaign from Air Transat was even better.
A few weeks back, you may have noticed a baby blue 50's Cuban style taxi roaming the streets of Toronto.
Those who were brave enough to flag it and go for a ride were rewarded with something I am currently dreaming of – an all inclusive Cuban vacation.
Torontonians aren't known for trying something if it looks out of place, so kudos to those who were brave enough (or in enough of a rush) to go for it. We are all collectively jealous of you and your trip to warmer weather.
As important as travel is to me, I have not yet been to Cuba. It is definitely on my bucket list – and considering how inexpensive it is to go there for an all inclusive week – I am hoping to make that dream come true before winter is over. There is nothing I'm wishing for more as I look outside at the snow falling than a warm beach. I've cooped myself up in my house for a couple days now, and am terrified of stepping outside into this minus 3 weather we're already having. Winter and I have never been friends, and it looks like this is gonna be another long, frozen winter.
Book your Cuba vacation here with Air Transat today and then rub it in everyone's face with a bunch of selfies on the beach. If I can save up some pennies over the holidays, I'm definitely escaping to Cuba at some point this winter.
The best part of this whole campaign is that they filmed it and made this hilarious video of the surprised patrons. Here's hoping @AirTransat brings more of these fun, interactive campaigns to Toronto!
[tube]https://www.youtube.com/watch?v=k_ROFcrD1EQ[/tube]

#cubantaxi #experiencetransat